About
I began over thirty years ago working in my father's Military Uniform business, Irving L. Wilson Company. I learned to hand grade patterns from some of the finest tailors in the industry who brought their trade to this country from Europe. I traveled around the United States to hundreds of ROTC colleges measuring cadets for made-to-measure uniforms. I was trained to cut these uniforms using stock size patterns and altering them to fit as I hand marked them on to the fabric. I went on to study pattern grading at Textile University in Philadelphia.
Years later I learned computerized grading and marking with Wientraub Uniform Company, a military uniform provider in Philadelphia. Later, I went to work for Mothers Work (AKA Destination Maternity) as production manager. There I implemented computerized grading and marking, changing over from old fashioned hand made patterns and time intensive hand marking. I trained staff to digitize, grade and mark.
In 1990 I established I. L. Wilson Company named after my father's business. In the following 15 years I. L. Wilson Co. became the largest apparel service production company in Philadelphia, offering pattern making, computerized grading and marking as well as computerized production cutting service. We employed over 4 full time pattern makers, 6 sample sewers 15 cutters/spreaders and provided full pre-production services to companies such as The Charming Shoppes, The Eagles Eye/Carroll Reed, and Moving Comfort, now owned by Russell Sportswear.
With the NAFTA trade agreements whittling away at domestic apparel development and production I was forced to scale down my services to what I now offer. I am experienced in most facets of garment production and will gladly offer my knowledge as it is needed.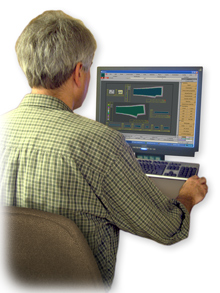 Pattern Grading & Marking
by Andrew Gloninger
Telephone:
610.356.1777
Mailing Address:
5 Roberts Rd
Newtown Square, PA 19073